The 2 winners chosen for the BLOG MAKEOVER GIVEAWAYS FROM Premades for a purpose chosen by RANDOM.ORG Are #5 JOHN DEERE MOM and #8 QUILT N MAMA! CONGRATS LADIES!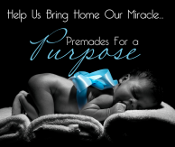 Please EMAIL Lena and let her know you won a blog makeover on my site! I also already sent her an email to let her know!

CONGRATS LADIES!
Everyone else don't forget to check out Premades for a Purpose to get your affordable and adorable blog designs and at the same time help this family bring their little one/ones home!