Meet soon- to-be adoptive mom, Lena. Feeling God leading them, Lena and her husband decided to adopt a child domestically after many losses with trying to conceive. Lena created

Premades For a Purpose

as a way of raising funds to assist with adoption expenses. She appreciates your support – be it by way of prayer or by purchasing a premade design.
Want to win one of Lena's designs for your blog?

She offers some really adorable blog designs for the Blogger platform, and I think you'll like what you see!
All you need to do is

visit her site

and tell me in the comments which design you would choose if you won! I will announce the 2 winners ON FRIDAY September 3rd!

You can also help Lena by grabbing her button below and spreading the word. Even if you don't win, you can purchase one of Lena's FAB DESIGNS to help bring their little one home! Lena's designs share the two A's-ADORABLE AND AFFORDABLE! So mosey on over and get you one!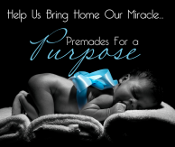 As a fellow adoptive mother I totally support this wonderful family in their efforts to bring their special child/children home as God leads them!